Rental costs


Apartment features and prices

The NOHAB Apartment is located in the village of Badacsonytördemic, 100 miles west of Budapest and roughly 120 miles from Bratislava, Vienna, Graz or Zagreb. The village is situated on the western slopes of Mount Badacsony which rises 438 meters above sea level. The peak and a brand new watch-out tower, erected in late 2011, can be conquered in under two hours.

The shores of Lake Balaton can be found one mile from the apartment, however due to pending development neighbouring beaches are at the moment more recommended for bathing. These can be reached in under 10 minutes by train (at Badacsony and Badacsonytomaj) or by bus (at Szigliget). Furthermore, the cycle route around Lake Balaton passes in front of our house.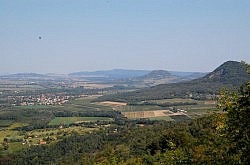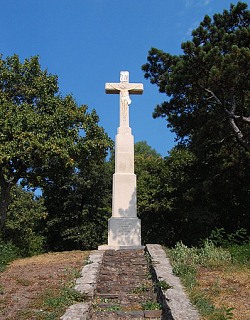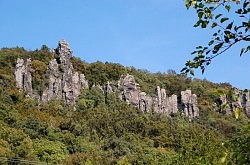 Click on the pictures for larger images!

The railway station of Badacsonytördemic-Szigliget is three minutes walk from the apartment and so are the bus stops to Szigliget or Tapolca. A general store, postal office and GP are all within two minutes of walk.

Our apartment has one room with a twin bed and two unfolding armchairs. Therefore it is suitable for hosting one person, a couple, or families with up to two children. The apartment has its own fully equipped kitchen and a nice bathroom with a shower cabinet. Guests have an all-electric oven, a microwave oven, a coffee machine and a refridgerator at their disposal, as well as a hair drier and a washing mashine.

A television with certain English and German speaking channels and Internet is available in the guest house with our compliments. We also have two bicycles, one equipped with a child seat. You may use these also for free, at your own risk.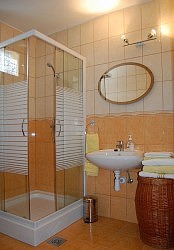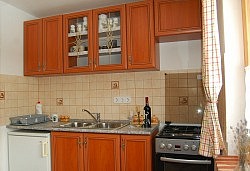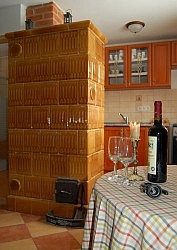 Click on the pictures for larger images!

The apartment is suitable for use also in wintertime. Currently a large wood-burning ceramic tyle fireplace can heat the guest house and anybody wishing to rent the apartment in cold weather will be provided with detailed instructions how to operate this. We also plan to equip the apartment with gas heating in the not too distant future.

Outside the apartment is our garden in which guests are welcome to relax. You may sunbathe, seek shelter in the shadow of our large walnut tree, cook on open fire or play on the lawn. The garden is circled by a G-scale garden railway which we will operate occasionally and you are welcome to enjoy an evening of trains should the weather and our own commitments allow the opportunity.

Please note that cats and dogs will not be allowed in the premises and that the apartment is non-smoking. You may, however, smoke in the garden as well as on our terrace which is covered by a vined pergola (ashtrays will be provied). We also have a wine cellar under our house where you can store your favourite bottles of wine and even consume them.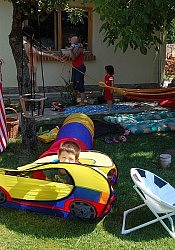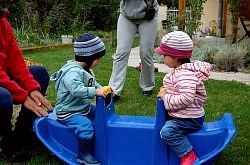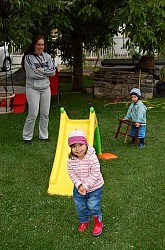 Click on the pictures for larger images!

The NOHAB Apartment is perfectly suitable for visiting with babies or small children. We will provide you with a baby bed, baby feeding chair, baby bath and pram all free of charge. Your children are also welcome to use the garden toys (swing, slide, seesaw, roller bike, etc.) during your stay. In addition, a modern playground is located in the park across the street.


Apartment for 1 person (September-May):
EUR 45,00 per night
Apartment for 2 persons (September-May):
EUR 55,00 per night
Apartment for 1 or 2 persons (June-August):
Minimum 4 nights stay unless available period is shorter!
EUR 65,00 per night
Extra bed (September-May):
EUR 15,00 per night
Extra bed (June-August):
EUR 19,00 per night
One night surcharge (Sept-May):
plus 30%
Extended stay of 7 nights or more (September-May):
7th night is free
Wood for winter heating:
free
Wood for garden cooking:
free
Use of garden and child furniture:
free
Use of bicycles:
free


Prices valid from 1 April 2023. The prices above do not contain the local tourist tax ("city tax"), which is HUF 500/person for people above 18 from 1 January 2023. Children under 4 years of age and not requiring a separate bed can stay at the apartment for free. The minimum length of stay in May as well as between Christmas eve and New Year's Day, is 2 nights.

Breakfast is not included but the kitchen is fully equipped and there is a general store 2 minutes from the apartment.

Returning customers will receive a small discount or present. When booking, please indicate the date of your last visit. Thank you!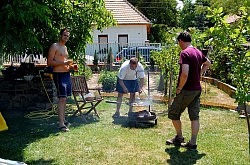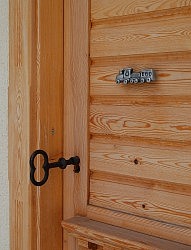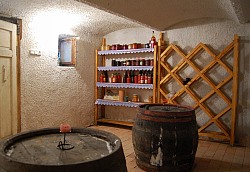 Click on the pictures for larger images!

A pre-payment of 30% is required at the time of reservation. Payment can be made by PayPal, credit card, bank transfer or cash. UK Cheques will only be accepted upon previous agreement and for a small surcharge. The next ATM is in Badacsony (3 kms), Szigliget (4 kms) or in Tescos at Tapolca (9 kms) but you can also withdraw money using your card at the post office, which is next door.

To book the apartment, please call +36 20 4141 621 or e-mail us.

Detailed booking info and available dates are shown on our booking pages.

Please also visit our photo gallery.


Back to top of page